24-7 Real-Time Marketing
Programmatic Advertising
Stages-based Automations
The "Extreme" CRM (ERP)
Exclusively for Contractors


Knowledge Transfer LLC - Contractor Platform Exclusively for Contractors.
"RadiansERP." ℠
"Advertise Precisely" ℠

The "extreme" CRM — Customizable and Programmable.
Real-Time On-Demand Programmatic Marketing, Advertising.
24-7-365 Active and Monitored Support. LIVE Onboarding.
Hyper-localized Lead Generation (Programmatic Campaigns).
Migrate from Basic CRM to Powerful Programmatic RadiansERP.
Multi-site Omnipresence (Programmatic Social and Organic SEO).
Contractor "Eco System" Software — Exclusively for Contractors.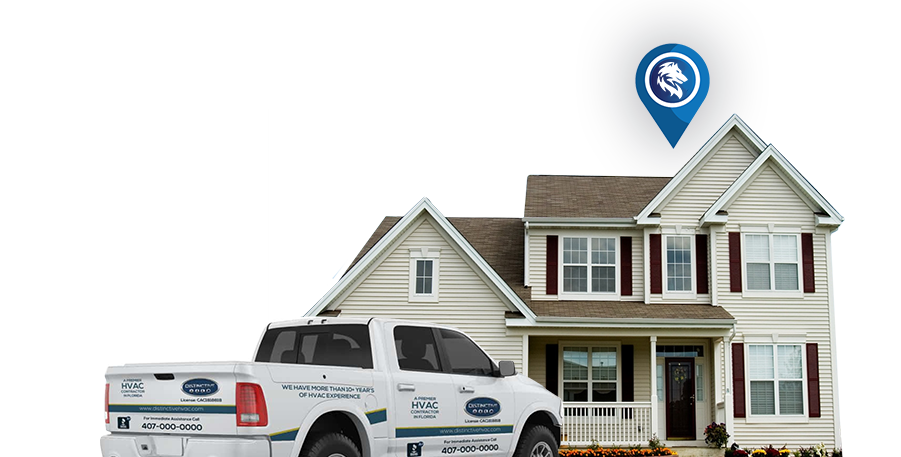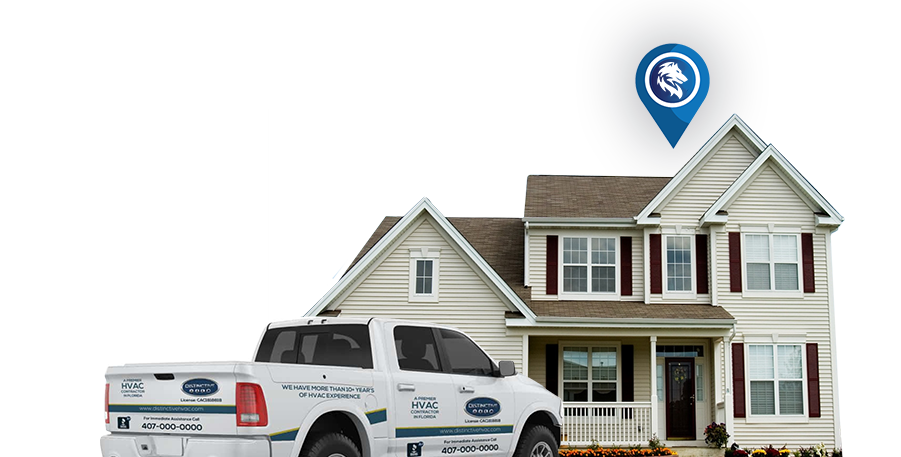 What We Solve
Knowledge Transfer is a hyper-localized programmatic marketing, advertising, and projects management platform as a service solution, exclusively for contractors. KTLLC provides cutting-edge programmatic advertising and marketing (in real-time) to solve the name-to-brand and frequency requirements of the contractor; in the field, and at the local market level—in tandem with automated workflows and stages through powerful programmatic integration. SCHEDULE A DEMO.

Our platform as a service eliminates and replaces the "manual and repetitive" with programmatic contractor-useful automations that boost contractor localized familiarity, service delivery communications, engagement frequency, inventory turnover ratios, real-time tracking, 3rd party integrations, and much MUCH more.
1. Smarter Automations. 2. Smarter Targeting. 3. Smarter Platform.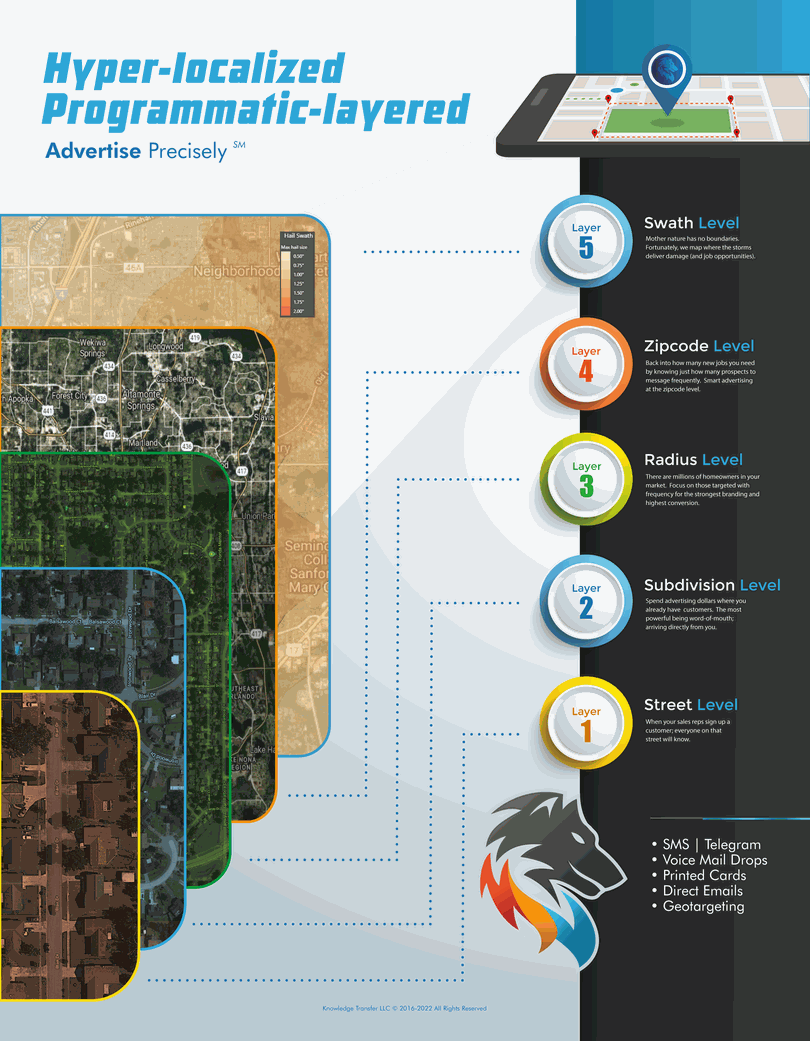 Sheila M.
Abacus Bookkeeping Services LLC
Knowledge Transfer is to marketing and field sales and technology to the way we take construction bookkeeping and job costing and turn it into something manageable and seemingly effortless! They are at a whole other level because they converge on things and worth every penny.
Catalina Henao
AiaR Solutions
Knowledge Transfer will take your business to another level with their expertise skills and consulting level, building a strong foundation for business grow. Such a remarkable company.
Calloway Roofing
Calloway Roofing LLC
Knowledge Transfer LLC arrived at Calloway Roofing in August 2018 with, "You know what, let us just show you what we do." sales increased 300% in the first year and field sales was connected to the backend systems and the internet presence. Calloway Roofing highly recommends Ktllc to any contractor that needs or wants full backend systems management or just laser-targeted marketing at the storm, subdivision, specific homeowner or street level.
Edward Calloway
Golden Hammer Roofing Inc.
Knowledge Transfer brought a shift in paradigm on Golden Hammer Roofing Inc. From technological automations that include marketing and programmatic advertising, to insights on how to improve the company at the various levels.
Trades contractors need to connect with KTLLC.
Jesse F.
Storm Recovery Experts LLC
Such a remarkable company. We have been thoroughly impressed by Knowledge Transfer and the plethora of knowledge that they possess not only in the marketing and Sales arena but also just in the business itself. They have helped us not only to obtain but also to surpass our sales goals that we had set. We are absolutely thankful that we found them and that thy stood by what they said. I highly recommend them to anyone in the trades industry that is looking to scale their company with the help of honest hard working folks that stand behind what they say.
Alberto H.
Comfort Zone Air Conditioning AH

The name says it all.
Exclusive marketing experience unlike any other.
NP LLC
Neighborhood Postcards LLC MA
Extremely knowledgeable about small business marketing and targeting of campaigns to ensure every marketing dollar has the maximum impact. Great to work with! .
Sheila Swinney
Serrano & Cagan Law
Roofers life just got easier and Scalable! Knowledge Transfer technology is cutting edge. It's an all in one marketing, CRM billing, inventory, billing, estimates and more... AND in compliance, built in one application. Amazing.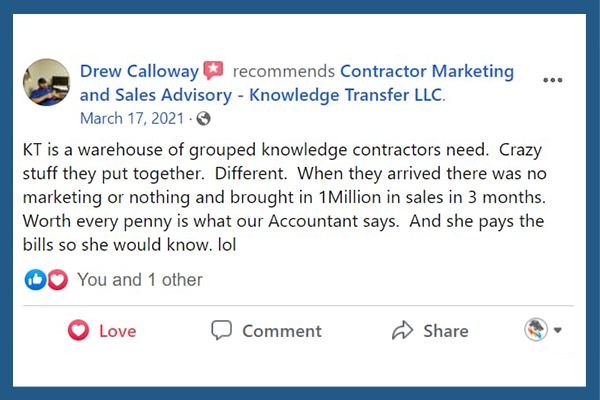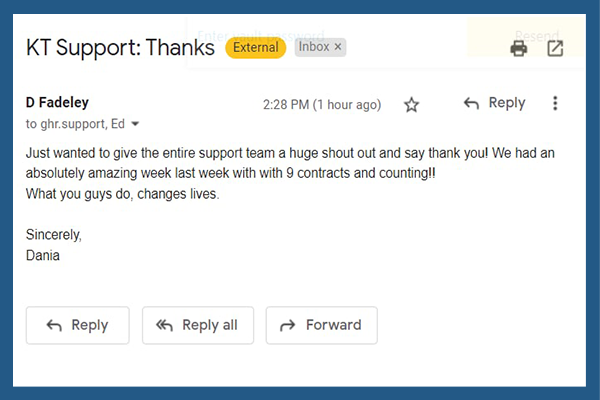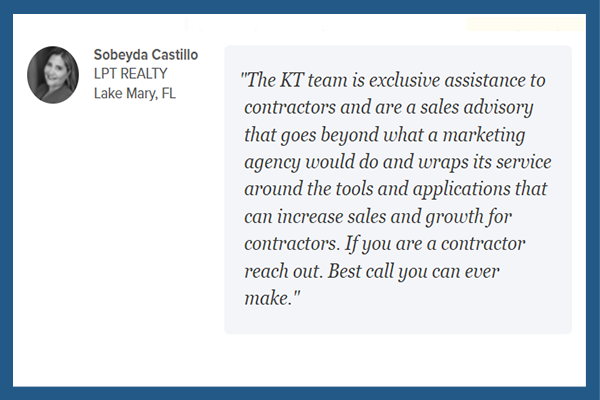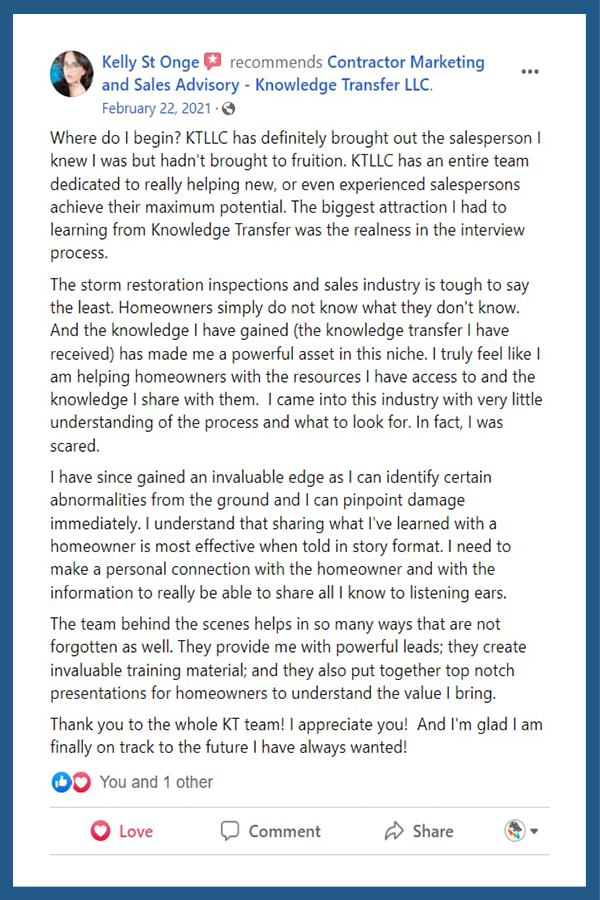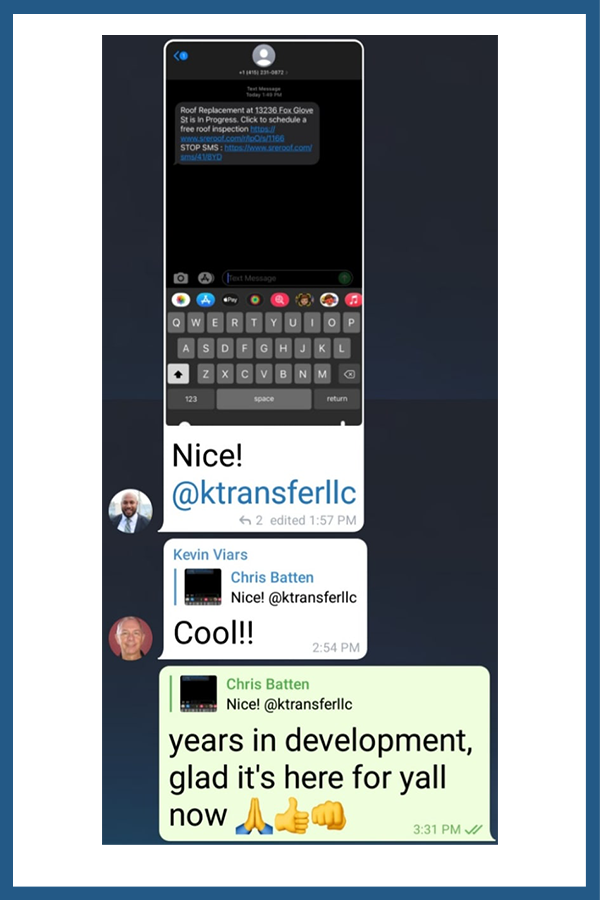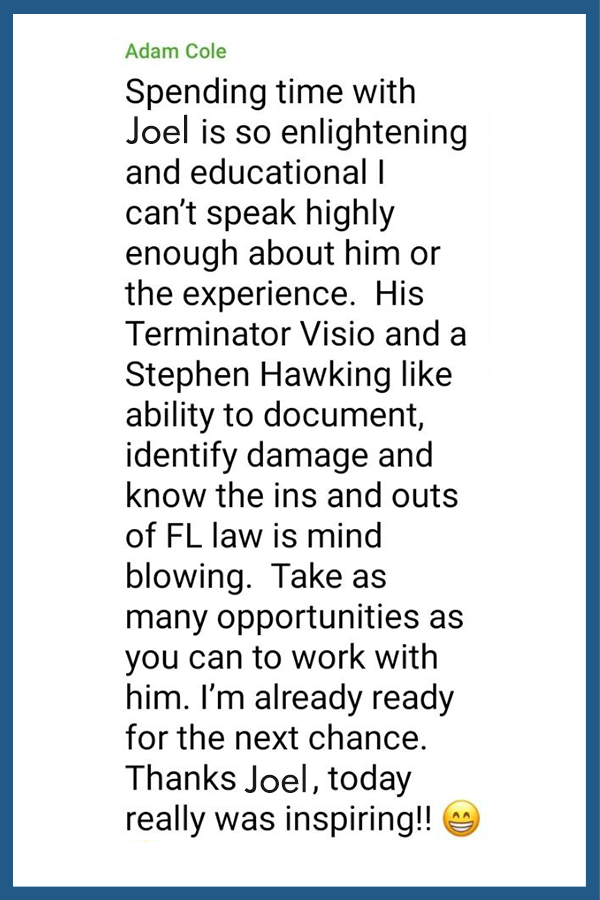 Previous
Next
Knowledge Transfer LLC is accepting Connection requests and Recommendations from licensed trades contractors. Connect with our growing network of trades contractors.

Knowledge Transfer LLC is accepting Connection requests and Recommendations from licensed trades contractors in our LinkedIn Network. Connect with our growing network of trades contractors.

Golden Hammer Roofing Inc
"I was in the process of revamping our marketing and CRM and was having a custom one built and was taking way longer; what really made me pull this trigger a lot quicker with ya was first you have experience in this industry, and the other bigger opportunity is to have you integrate multiple applications so they function as one for my staff. Looking forward to it."
~ Ed Callaway
Storm Recovery Experts LLC
"Such a remarkable company. I recommend them to anyone in the trades industry. We went from 10 contracts a month to signing 7 this week and it's only Wednesday! We're really pleased with Knowledge Transfer, we're confident in their ability and knowledge.
We appreciate everything you've done."
~ Jesse Fennell
Calloway Roofing LLC
""Ktllc arrived at Calloway Roofing in August 2018, increasing sales 300% in the first year and just started connecting things in ways we were just not aware was possible. We highly recommend KT to any contractor that wants to increase sales and increase their business uniqueness. Thank you."
~ Drew Calloway
321 Roofing LLC
"3 21 Roofing is composed of professional roofing contractors that always make sure that you are provided with the most outstanding roofing services throughout Merritt Island, Jacksonville, and nearby areas in FL."
Menzel Roofing LLC
At Menzel Roofing Services, LLC, our roofers provide our clients with the personal attention that they deserve.
Our team meets with the client to ensure that we accurately address his or her needs. "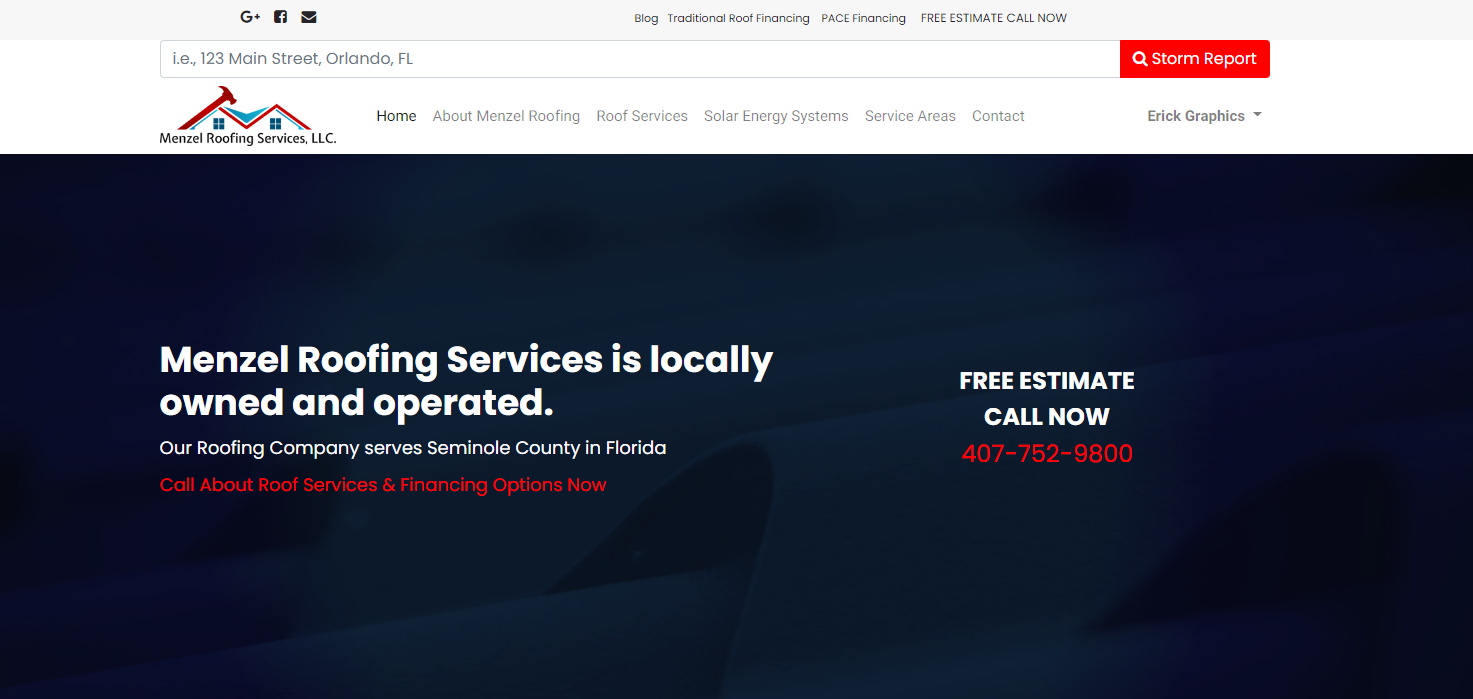 Solar Solutions Advisors

They are dedicated to making solar energy affordable and accessible to everyone—with ZERO upfront costs.*
Floridian's homes can become their own tiny power station and generate plenty of reliable energy, all while reducing HO's electricity bill.
Their mission is to create a shared plan for saving the planet's most exceptional wild places.
Synergy Solar LLC

Synergy Solar in Jacksonville, FL has been preaching the value and proving it every day to our happy customers all across North Central Florida and the surrounding areas.
They are licensed, accredited, certified contractors of the top affiliations in the business!